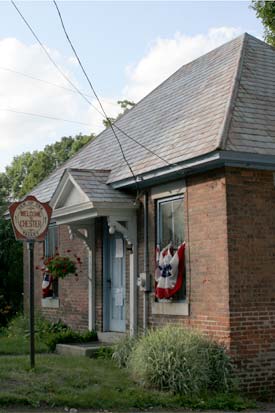 The Old Jail, built in 1840, is home to the
Chester Historical Society.
Mission
The Chester Historical Society is dedicated to the preservation of Chester's heritage and historical buildings. The society maintains numerous resources for local history or genealogical research, as well as a large collection of items from Chester's industrial past.
School Archives
If you are a graduate of Chester schools, there is a large collection of photographs and material from elementary school through high school for your enjoyment or research. If you are looking for an old classmate you may want to check the Chester High School reunion site.
Meetings
Meetings are held at the Old Jail on Route 20 the first Saturday of the month, from 9am to 11am - all are welcome! Email us if you would like to make an appointment to use the resources of the society or if you have any questions/comments about Historic Chester Massachusetts.